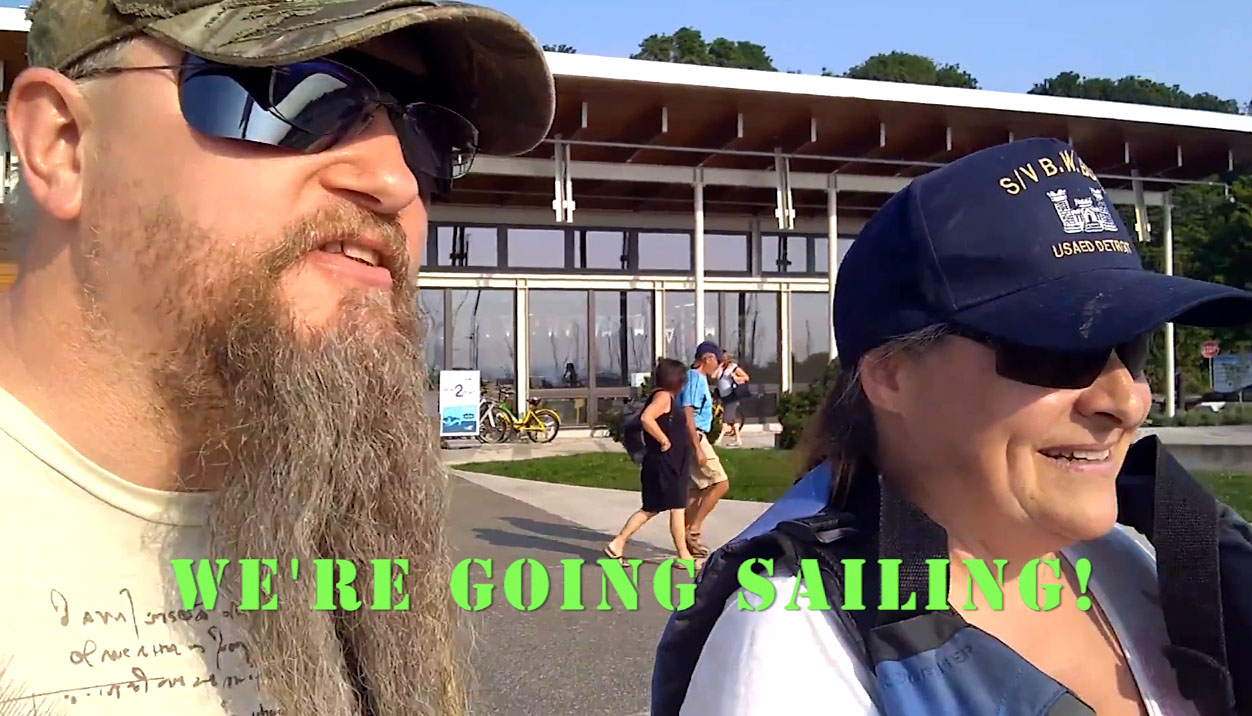 "What you do today can improve all your tomorrows." ~Ralph Marston
We're doing a lot to improve all our tomorrows, especially when they include sailing. Wow! Sailing is such an incredible buzz. We are starting to wonder why more people don't do this. Here's hoping that as you watch us go through this, you're emboldened to take that leap of faith towards your dream — whatever that may be. For us, it's to live a more simply beautiful life and travel this wonderful Mother Earth.
In this episode you'll see us get our hands wet and wrung sailing, fishing, crabbing, and generally getting splashed into this live aboard life. We get some help from Seattle Sailing Club and the gorgeousness that is the Pacific Northwest. We look at our first serious contender as a sailboat purchase for us, and start to purge all that will not fit on the boat. It's a lot of stuff and we don't get it all done in these few short moments of this chapter. So stay tuned.
Speaking of stuff, we want to share with you, if it hasn't been clear in our other communications, that we are far from complaining about the life we currently have. It's been a blessing to raise our children in a sleepy little Cascade Foothill town; but, when we looked to our next chapter of life, there was something not right about all of this. We, like many American (dare we say Westerners) have been caught up in the trap of abundant consumerism. For many, it seems to provide contentment and happiness. For us, that wasn't the case. We are blessed and highly privileged. We get that. We plan to use it all for good. And our daily lives now, after the dawn of Proteus Rising, are even more firmly centered on a life of discovery juxtaposed with service. As we go through this process, you will see us give more than sell, and discover key themes and lessons in life through service to those who need us. We worked hard; but, we're not ignorant to those who paid it forward to help us get here — and the list of those folks is long, from parents and extended family, friends, mentors, and even strangers on a ferry who gave the children of a weary mother ice cream cones because witnessing our family outing reminded them of times gone by in their own life. People shape our lives. Our fervent hope is that by witnessing our adventure, we can somehow positively shape yours, albeit virtually, as well.
One cautionary word: this video contains lots of giddiness over being on the water. But you can handle that, right?
Also, Greg is steeling himself for all the comments about his silly sunglasses. When this episode was filmed he was between prescription sunglasses. Our captain needs to see well when adventuring, aye?
One administrative note:  Casz is slowly getting this video editing work into crush status, so hopefully we'll get to that every-other "Thors-day" release very soon. Thanks for sticking with us.
Feel free to share this crazy adventure of going from land to sea and all around the world with your friends. And if you're feeling generous and we'd love to have you subscribe to our YouTube channel — it really helps motivate us to keep making this content. You're also welcomed to please leave a comment here. We want to connect with you, because that's what this entire adventure story is about: connection. Connection to the world at large, and more intimately, connection to you. We'll answer as many questions as we can! Enjoy!
Ciao!
Casz & Greg
Leave a Comment